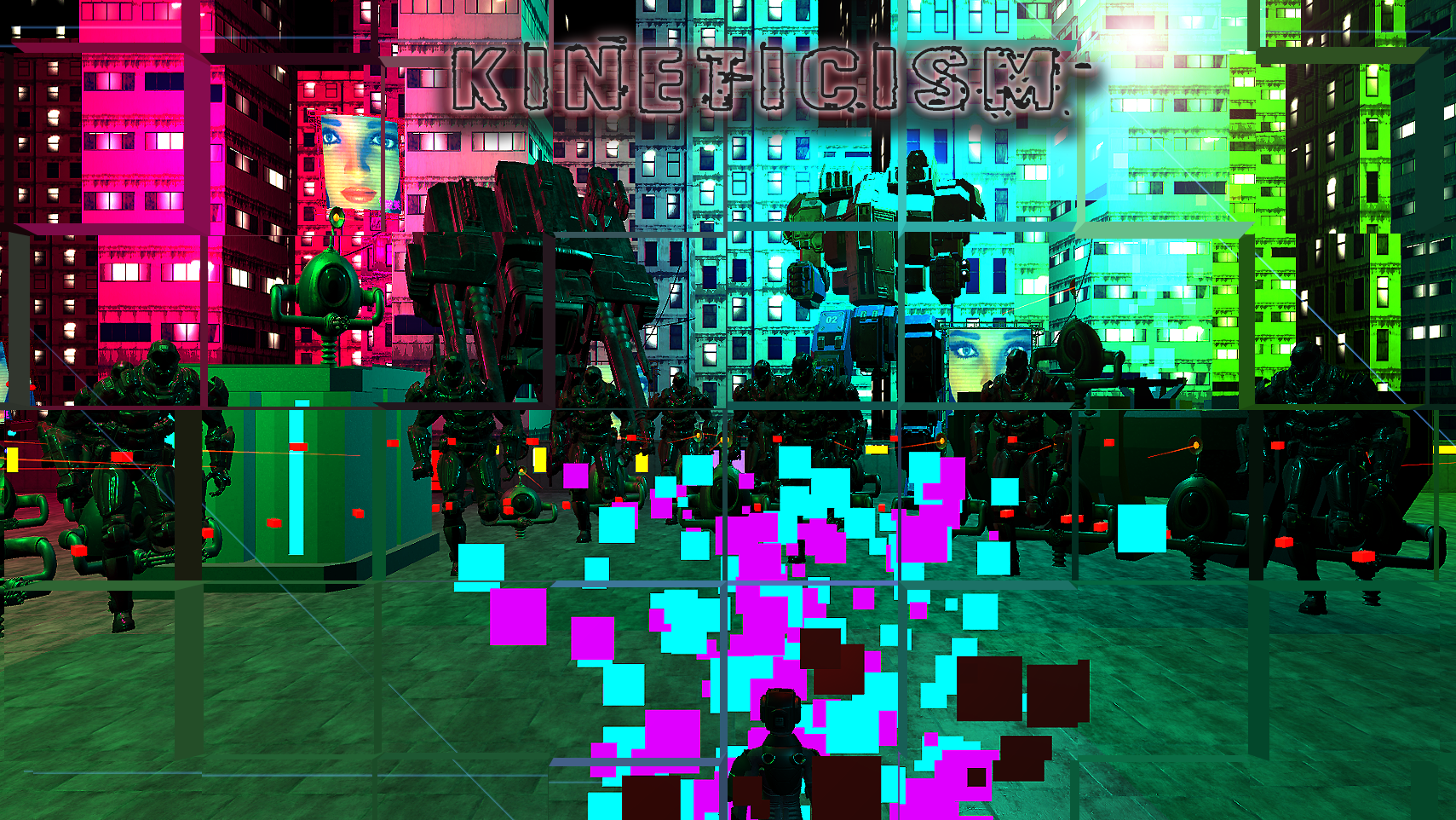 Kineticism
Kineticism
A futuristic chaotic twin-stick shooter that sets hundreds of robots against a single powerful, unrelenting force: You.
Kineticism is a top-down twin-stick shooter set in the 27th century. You play as a black-hat hacker who receives a tip about a mega corporation security loop hole. In this futuristic cyber dystopia, surely it's not a trap... Right?
Spoiler, this is tagged "Action" for a reason! Lucky for you, you've got a cute little drone friend that shoots wherever you're looking at!
Your outfit isn't just for looks either. You're kitted with the latest and greatest cybernetic abilities. You've recently upgraded your armor to version 1.47. Code name Oppressive Pace (OP for short).
You can Dash away from enemies if needed, or Dash toward them taking advantage of the corrosive side effects your emission particles has on metal! You can also Crash which emits a powerful explosion, wiping out anyone around you. When you're fully charged up, you can activate Overdrive which temporarily doubles your fire rate, movement speed, enables invulnerability and you get UNLIMITED Ability use!

But wait, there's more! Your Abilities, Health and Drone can all be upgraded using spare mechanical parts. If only there were hundreds of robots waiting to be destroyed....
There are three waves in the three levels. You can upgrade in between each wave. By the end of the game, you're an unstoppable robot killing machine.
DualShock 4 Controls (Recommended!) (Desktop Build Only)

Left Stick - Movement
Right Stick - Aim
R2 - Shoot
L1 - Dash
R1 - Crash
L2 - Overdrive
Keyboard Controls

WASD - Movement
Mouse - Aim
Left Click - Shoot
Left Shift - Dash
Space - Crash
Q - Overdrive
Asset Credits

Asset Packs Used
Sci-Fi Female Scout by Stanley3D
Cyber Square by IL Ranch
Enemy Robots by WatchFindD0Media
SciFi Robots by VixX Games
Medium Mech Striker by MSGDI
The Assault Mech by TripleBrick
Sci-Fi Styled Modular Pack by KarbooSX
3D Free Modular Kit by Barking Dog
Neo Sci-Fi Font by Bryan Augusto
Cybrpnuk Font by junkohanhero
Music Used
Demon by JVNA (Title Screen)
Barge by Gunnar Olsen (Level 1, Level Complete)
Cold Rise by Gunnar Olsen (Level 2)
Giving Up by JVNA (Level 3)
City Traffic by EmbraceTheArt (Level 3)
Sfx Used
Sci-Fi Explosion by Anomaex
Warping by Lloydevans09
Gasp-9 by MontBlancCandies
Fire2 by Tc630
Dying Gasps by AmeangelOfSin
Ar15 Shot by Michorvath
Drone Pain by Euphrosyyn
Hit-1 by ddragonpearl
Laser Shot by MusicLegends
Death by Porklash
Robot Laughing by JohnyPanic
Mechanical Turning On by Inspectorj
Tone-Robot by ZenithinfinitiveStudios
Affirmative by Yuroun
Laser Charge by eronimogeronimo
Robot Factory by Parabolix
Laser-02 by ltlRobotFactory
Implosion-Far by Klerrp
8bitlaser by soundholder
Intense Intimidation by asteroiderer
Special Thanks
Michael Hadley -- Mike was nice enough to not only download hundreds of megabytes just to figure out an issue I was having and emailing me back, but doing so even on the weekend. Many thanks, Mike!
Install instructions
Thanks for downloading a desktop build! Make sure you plug in your dualshock 4 controller. X1 and X360 controller support will be coming soon!
Download
Download
Kineticism Desktop (Recommended) 1.3
236 MB